Whether you're new to the world of fine wine or a seasoned expert, understanding how wines are scored and reviewed by critics can give you helpful insight when choosing your next bottle. Today we'll explore how wines are scored, who assigns the scores, and what they can tell you about a wine you're considering buying.
Introduction to Wine Scores
First, it's important to understand that there is no universal system for scoring wine. Wine scores are often based on the 100-point wine-scoring system that gained popularity back in the 1980s, but critics today still have some variation in their rating systems. Wine critic Robert Parker began to rate wines on how they were made and their typicity, rather than exclusively on taste.  "Typicity" simply means how much of a particular wine's natural characteristics actually reflect the region from which it was produced.
You'd be hard-pressed to find a wine rated below 50 points on any critics' 100-point scale. In fact, most pro reviewers don't bother rating wines below an 80-point score. If you're shopping for fine wine in particular, you'll see many ratings 90 points and above, with few even nearing or reaching a perfect 100. Let's break down what these scores mean and who these critics are.
Some of the most famous wine critics and their signature abbreviations — as well as how they score — are explained below.
96-100, when a wine is extraordinarily "profound and complex" and displays all the traits expected of its class and kind. Wines of this merit often take added effort to locate and purchase for consumption.
90 – 95, when a wine is exceptional in complexity.
80 – 89, when a wine is slightly better than average or very good without obvious flaws.
70 – 79: when a wine is basic, less distinct, and straightforward — yet soundly produced.
60 – 69: when a wine falls below average and has inadequacies (think too much acidity or too many tannins).  They may also have an off-putting aroma or taste.
50 – 59: when a wine is considered to be unsatisfactory.
20, Truly extraordinary
19, Remarkable
18, Next-level
17, Superior
16, Renowned
15, Nice drink, average
14, Uninteresting
13, Borderline unacceptable
12, Unbalanced
95-100, Distinguished
90-94,   Remarkable
85-89,    Great, with notable qualities
80-84,    Concrete
75-79,    So-so
50-74,    Unacceptable
98-100, Intense
95-97,   Excellent
90-94,   Successful
86-89,   Straightforward
83-85,   Commendable
76-82,   Standard
70-75,   Lacking
James Suckling (JS), says that "95+ points are a must buy; 90+ points is an outstanding purchase; wines less than 88 points still may be worth buying but to proceed with caution; and, anything rated lower is not worth buying." Other significant wine critics to be mindful of are JEB Dunnuck (JD) and Vinous Media (VM). (Note that these critics may require a subscription to access their findings.).
What does a + or – symbol after a wine score mean?
Should you see a + or – after a score, consider it a message to convey more exactitude of the score, including its potential performance as it ages (will it improve, or are there "knocks" against it?). Most wine scores with a + or – will have some sort of explanation in the critics' notes, which is worth reading regardless of the score.
Does a wine ever score a perfect 100?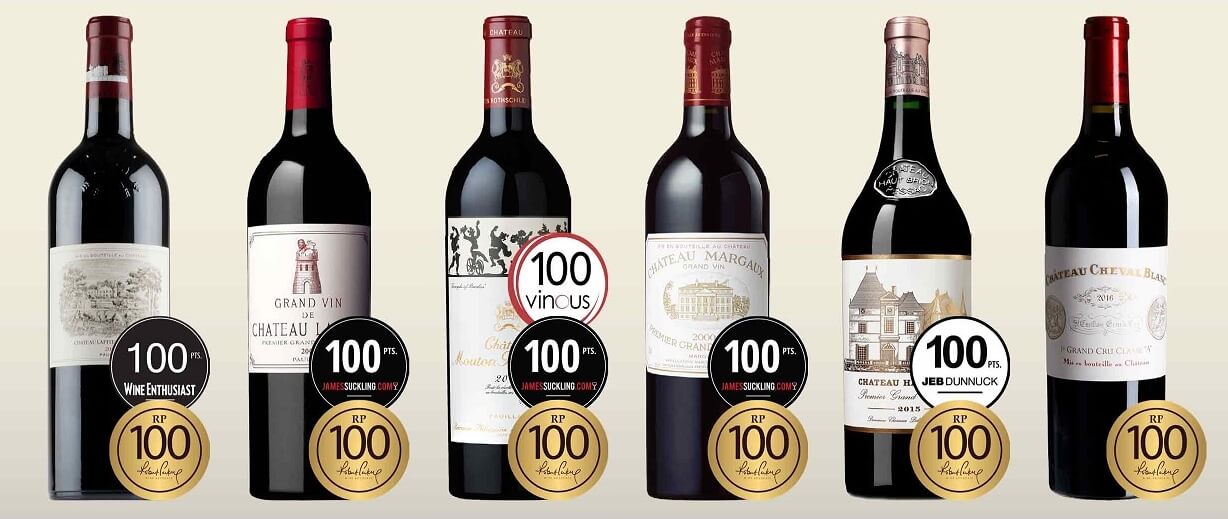 It is rare for wine to score a perfect 100, but it absolutely does happen!  This 2009 Robert Parker selection is an example of a lineup of 100-point scoring wines, and they are all exceptional picks.
Does every wine have a wine score and should you shop based solely on wine scores?
Most wines actually don't have scores, and in many cases, if you're buying a wine that does have a score, you might not even know it. If you're interested in seeing wine scores for the vintages you're considering, check an online retailer known for fine wine. They are most likely to display wine scores and pro reviews with the bottles they carry. Some wine enthusiasts are not too fond of scores because of the following:
Different critics have different opinions
Wines from different regions have contrasting tastes
Wines with lower ratings never get published
Critics have different rating scales
Regional growth can influence scores
All in all, depending on whether or not you aim to be a connoisseur, ratings and scores alone should not dictate whether or not you make a purchase — although knowing their respective ratings can be a good place to start building your collection.  If you desire more information regarding a specific wine, you can refer to the critic's tasting notes which can provide more detailed insight such as whether a wine has "a lighter shade in the glass, is widely available, and kicks off with aromas that dust your nose when observing its bouquet."  The wine notes that appeal to our senses are what entice purchases and bring tasters back for more, rather than only a number.
Need help selecting the right wine?
For personalized recommendations and more, get in touch with one of our fine wine experts.