Cabernet Sauvignon is a full-bodied red wine with dark fruit notes, high acidity, and high tannins. It originated in Bordeaux, France, but has become popular in vineyards all over the world as the best-known red wine varietal.
Today we'll explore Cabernet Sauvignon and get to know the taste profile, most common regions where it's grown, how to serve it, and bottles you might like.
Flavor Profile
Body: 🍷🍷🍷🍷🍷
Sweetness: 🍷
Tannin: 🍷🍷🍷🍷
Acidity: 🍷🍷🍷
Cabernet Sauvignon is recognized for its distinct, full-bodied, dry taste profile. With a relatively high alcohol content and low residual sugar, Cabernet offers an intense drinking experience and can pair beautifully with the right foods and flavors.
Flavor Notes
Every bottle is different, but Cabernet is best known for notes of black cherry, other dark fruits, and a variety of spices. More common notes are tobacco, wood, vanilla, and black currant.
Pair Cabernet Sauvignon with…
Cabernet Sauvignon pairs best with foods rich in flavor like red meats, smoky or spicy seasonings, and certain rich cheeses. If paired with a lighter dish – such as chicken, salmon, or a zesty pasta entree – it can completely overpower the meal. In general, the more intense the wine, the more intense the dish.
Common Wine Regions
Perhaps the best-known region for Cabernet Sauvignon is Bordeaux, France, but there is no shortage of excellent Cabernets from all over the world. Great bottles can also be discovered from Chile, Australia, Spain, Argentina, and right here in the US. Napa Valley produces great Cabernet Sauvignon, and Sonoma has great picks as well.
Serving and Storage Tips
Storing Temperature and Tips
Cabernet should be stored properly, especially if you're aging it for a few years before opening the bottle. When storing wine, choose a space that gets no sunlight, is safe from vibration, and is temperature controlled. Around 55 degrees Fahrenheit is perfect for most wines. For more wine storage guidance and to learn about professional wine storage, read our Complete Wine Storage Guide.
Serving Temperature and Tips
Once you've taken your bottle out of storage and are ready to serve it, let it warm a bit before drinking. The ideal serving temperature range for Cabernet Sauvignon is between 60 degrees and room temperature, with the ideal serving temperature of 63 degrees. Letting your wine decant before drinking is the perfect way to let it settle to the ideal temperature.
PRO TIP: If you're enjoying a dinner and paying special attention to your wine, notice how the flavor changes as the wine warms throughout the meal. You might discover that a bottle is best after sitting for a bit and having a chance to open up and reach room temperature.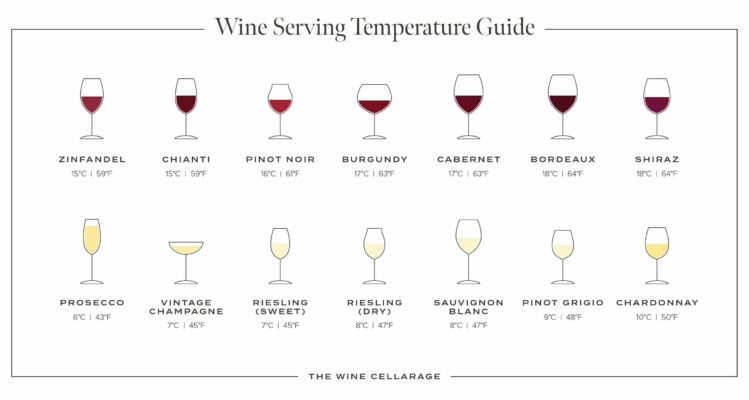 Choosing the right wine glass for Cabernet Sauvignon
Make a Cabernet Sauvignon even better with the proper serving tips and techniques. We recommend a large wine glass to open up the flavors of Cabernet, and if you have the time, decanting it before pouring will enhance the drinking experience further. Check out our Wine Glasses Guide below for different types of wine glasses and what they're best for, and read the complete guide with examples here.
Our Bestselling Bottles
For personalized recommendations of Cabernet and more, get in touch with one of our fine wine experts.
750ml
Minimum order 1 bottle. No cancellations or refunds. ETA approx. months from buy date.
$

199.00
24 Available
6
Want to explore our full selection of Cabernet?
Shop Cabernet Sauvignon
If you like Cabernet Sauvignon, you might also like…
For Cabernet fans looking to branch out, we recommend trying a Bordeaux Blend, Merlot, or a Cabernet Franc.