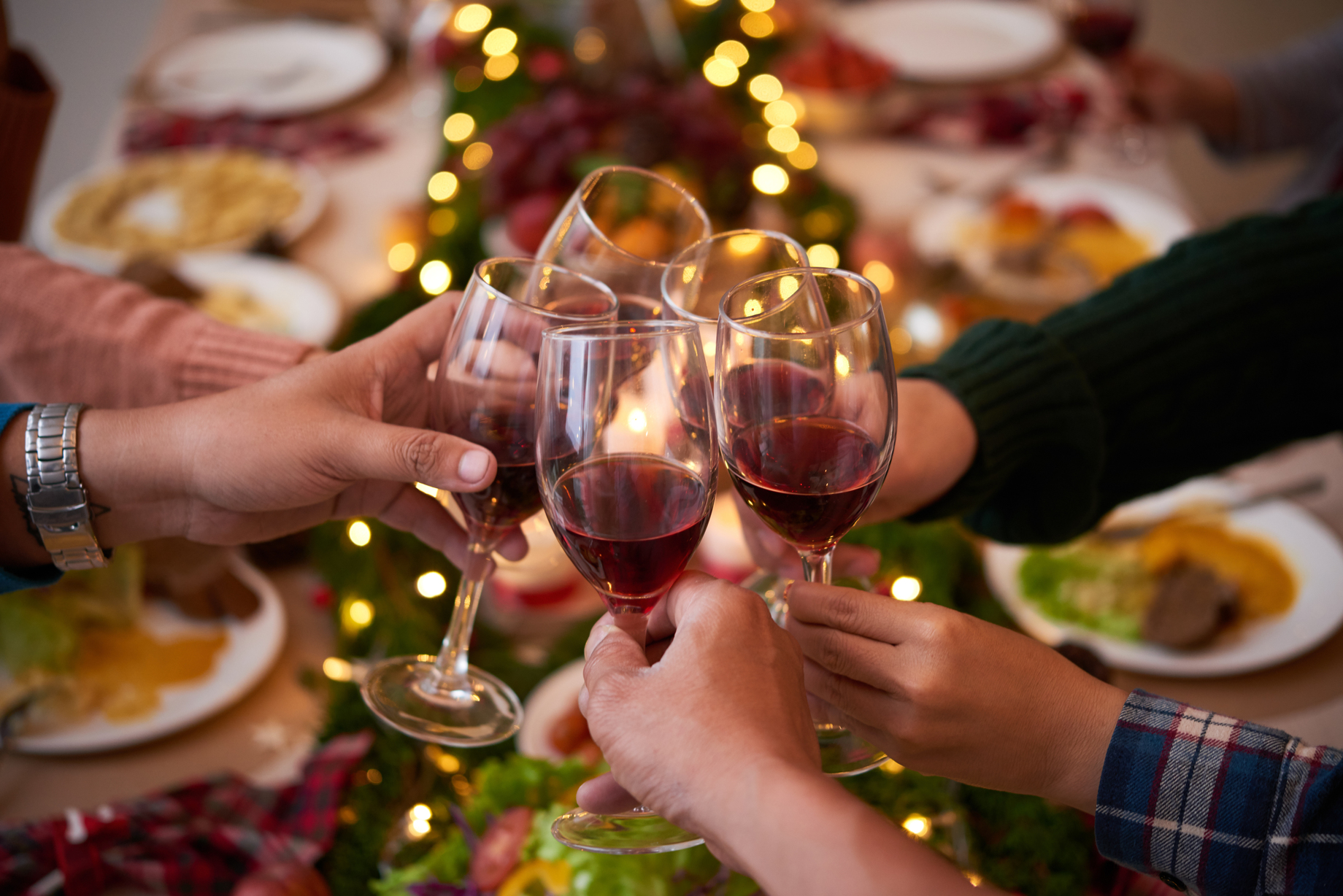 The holiday season is upon us. That festive period before the doldrums of January, when family, friends and co-workers gather to toast a year completed and a new one on the horizon. Whether your celebrations will include a sit-down dinner or relaxed potluck, multiple dishes mean multiple wines. Here's an easy guide to pairing your centerpieces platters, sides, and dessert with your favorite bottles.
Before pairing wines with specific foods, remember a few rules to get you started.
When you buy a diamond, you consider the 4 Cs. When pairing food, consider 3: Cut, Complement, or Contrast. An example of "cut" is when tannins in reds like Cabernet Sauvignon cut the fat of a well-marbled steak. An example of "complement" is pairing an earthy Pinot Noir with savory, umami rich dishes like mushrooms. An example of "contrast" is sipping crisp champagne with salty foods which softens their salinity.

Match Weight and Body

Marry Flavor to Flavor

Pair Acid with Acid

Protein and Fat Favor Tannin

Try Sweet with Sweet

Or Sweet with Heat

Oil and Salt Don't Mix with Tannin

Local Wine, Local Food
With these guidelines in mind, let's review America's popular holiday dishes and the wines that match. So, whether you're hosting or being hosted, you'll know what to pour.
Crudités Ah, the famous platter of vegetables scattered around a creamy mystery dip, often spotted at office holiday parties. Raw carrots, celery and radishes aren't the wine-friendliest foods, but there are definitely a few that work. Think green, herbal, grassy, peppery, and even vegetal wines that complement. Within that category: Sauvignon Blanc (Sancerre, New Zealand, Napa, South Africa, Chile); Grüner Veltliner (Austria); and Vinho Verde (Portugal) are light and refreshing for the start of a party as well as crowd-pleasers.
Fried Finger Foods Passed or plated hors d'oeuvres are commonly fried and salted. Commonly seen are mozzarella sticks, vegetable samosas, crab spring rolls, and crispy shrimp. Salt and fried go remarkably well with Champagne. If Champers isn't in the budget (or anywhere to be seen at the party), reach for dry bubbles like Cava or Crémant, both which require bottle aging. The back-up: the driest Prosecco you can find. Otherwise, unoaked Chardonnay and crisp Albariño will do in a pinch as well as fino sherry.
Vegetable Sides Glazed carrots, leafy greens, stewed beans. Though there's a wide range of vegetable recipes, typically they're not rich or dense enough to demand a bold red wine. If cooked in olive oil, stick with light- to medium-bodied whites with little to no oak like the whites mentioned above, or a dry Riesling (Germany, Finger Lakes). For dishes with a hint of sugar, like maple-syrup roasted brussels sprouts, try an off-dry Riesling (Washington State, Germany). And anything cooked in cream can take fuller-bodied whites like Chardonnay (California, Burgundy) and white Rioja from Spain.
Pasta Lovers Whether or not you're Italian, pasta is permanently ingrained in American food culture. That includes everything from baked ziti to carbonara to lamb ragù over pappardelle. Fortunately, there's a natural category of wines for all these delicious pastas and sauces: Italian. The "what grows together, goes together" is best exemplified in the boot of Europe's cuisine. The wines tend to have high acidity, making them perfect for food as they don't overpower flavors and refresh with every sip.
Whole Fish and Shellfish Not everyone eats meat, and depending where you live (Pacific Northwest, Florida), seafood may be a staple of the holiday table. The best pairings consider the cooking method and sauces. For delicate, mild fish like flounder baked in butter with lemon, shoot for wines of equal intensity. Try citrus and mineral-laden whites like Vermentino (Sardinia, Liguria, Tuscany), young Chenin Blanc (Loire Valley, South Africa), Verdejo (Spain) and Grenache Blanc (Rhône Valley, Roussillon, Paso Robles). If preparing a smoked salmon, however, think about rosés (Provence, Tavel) and light reds like Pinot Noir (village-level Burgundy) to stand up to the intense smoke flavor. For something fun and esoteric, try the bright and crunchy reds from Jura: Trousseau and Poulsard.
Meaty Mains Roasts are classic dishes for the holidays as they look impressive and serve a group easily. Typical meats include hams, rack or leg of lamb, and prime ribs. The rule of thumb here is to match flavor with flavor and weight and body. The heartier the meat, the heartier the wine. With ham and lamb, think prettier reds like Gamay (Beaujolais), Pinot Noir (Burgundy, Sonoma, New Zealand), and Sangiovese (Chianti Classico). Of course, medium-bodied reds such as Merlot (Napa, Right Bank Bordeaux) work, too. Moving into the realm of beef, look for reds with bigger tannin profiles and more structure like Cabernet Sauvignon (Bordeaux, Napa, Australia), Sangiovese (Brunello di Montalcino) and Super Tuscans. Even brawny Barolo, based on Nebbiolo, works.  If pouring Barolo, opt for bottles with ten years of age.
Desserts Perhaps the easiest category to remember is dessert: pair sweet with sweet. Most dessert wines have an affinity for the luscious finales of a holiday meal. From apple pie with Icewine (Canada) to crunchy, custardy Crème Brûlée with Sauternes. Though tart, fruit-forward desserts like raspberry sorbet may be overpowered by the ripest, richest late-harvest wines like German Trockenbeerenauslese. So, what goes with the noblest, botrytized dessert wines? Try simple dishes like flan and cheesecake to let the wine's complex flavors linger and shine.
Cheese and Fruit Platter Wine and cheese have long been considered natural partners. But not all cheeses go with all wines. Match based on intensity or regional pairings, for the best synergy. For example, fresh, tangy cheeses like goat-based chèvre work with wines of similar sharpness and origin like Sauvignon Blanc (Sancerre). Creamy, nutty Gruyere marries well with local Swiss wine Chasselas as well as rounded Chardonnay. Port and Stilton perform as foils to one's another singular trait: port for its red fruit sweetness and blue for its pungency. 
We appreciate the knowledge of wine expert, Lauren Mowery, J.D., D.W.S. She really knows great wine! Lauren is a journalist, award-winning blogger, photographer, and second stage Masters of Wine candidate. She currently contributes regularly to Forbes, USA Today, and Wine Enthusiast.